China's Copper Industry Is Struggling When It Should Be Booming
Copper demand in the world's biggest user of the metal is slowing down at a time of the year when it usually picks up.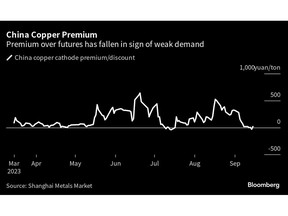 Article content
(Bloomberg) — Copper demand in the world's biggest user of the metal is slowing down at a time of the year when it usually picks up.
The copper market, traditionally a bellwether of economic health, is finding some support from the energy transition and Beijing's efforts to revitalize growth. But buyers lack conviction and the view from the factory floor remains cautious as margins are suppressed and profits wither.
Article content
"Consumption is lagging the previous few years due to the macroeconomic environment," said Hai Jianxun, a sales executive at Henan Yuxing Copper Co., which makes pipes used in items like air-conditioners. "The whole industry is finding it very difficult."
Copper prices have traded in a narrow range for months after China's recovery from the pandemic lost all momentum. The government's recent measures have just about stabilized the economy, but reports of lackluster demand will worry investors because the autumn is usually a busy period for fabricators of the metal in China's highly seasonal economy.
Copper's widespread applications offer a comprehensive view on the landscape faced by policymakers as they bid to restore China's economic fortunes, while at the same time pivoting the economy from investment to consumption-led growth and hastening the transition away from fossil fuels.
A quarter of China's copper demand comes from construction, according to Citigroup Inc., an industry that's been pummeled by the protracted crisis in the property market. Consumer goods account for 16%, another sector that's suffered as Chinese households have conserved cash due to economic uncertainty. 
Article content
Power generation, transmission and storage take up 20%, and much of that segment, particularly around renewable energy and electric vehicles, has boomed as efforts to green the economy bear fruit.
Clean Energy
Refined copper demand rose 6.3% in the first half, according to Bloomberg Intelligence. That's a fair clip, albeit from a low base after the constraints imposed by the pandemic. Much of the growth has come from clean energy and appliances like air-conditioners, which are increasingly necessary as the summers get hotter.
But the outlook for the second half is less promising. Demand growth could fade to 3.9% as China's solar expansion slows and households scale back on purchases, said Ji Xianfei, an analyst with Guotai Junan Futures Co.
That suggests the autumn peak season will disappoint. While the fabricators that shape metal into various forms for other manufacturers have boosted production, the increase hasn't been tied to rising orders, said Ye Jianhua, an analyst with researcher Shanghai Metals Market, citing a survey of factories. 
"We haven't seen any signs of peak demand from a single end-user segment yet," said Ye. "Spot trading is barely satisfactory. Premiums are falling. In general, consumption is lagging."
Article content
More aggressive stimulus from Beijing could change the equation, but over the longer term it's likely that China's economy will be consigned to a phase of slower growth, said Eric Liu, head of trading at ASK Resources Ltd.
There aren't any engines to replace the property sector and renewable energy still isn't big enough to make a dramatic difference, he said.
For the first seven months of a year, Chinese base metals smelters and processors recorded their worst cumulative drop in profitability in over a decade, according to the National Bureau of Statistics. Hai at Henan Yuxing said fees for his firm have fallen from previous years even as the company has managed to increase sales by launching new products to expand its customer base. 
The problem, according to Guotai Junan's Ji, is that customers are tightening their belts and seeking out less expensive options. So even as demand ticks along, prices are kept low and margins are held down. 
"Resilient demand so far is largely stimulated by government policy support, including subsidies, and not spontaneous consumption from consumers," he said. 
That leaves fabricators in a bind.  
"We are all monitoring those developments," said Henan Yuxing's Hai. "After all, this is a market driven by government policies." 
#Chinas #Copper #Industry #Struggling #Booming
About Author