Peso climbs further as inflation concerns ease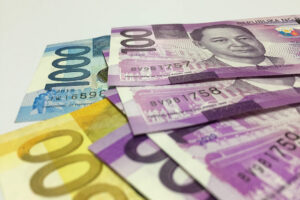 THE PESO appreciated to a new three-month high against the dollar on Monday amid easing inflation concerns here and in the United States.
The local unit closed at P55.55 per dollar on Monday, strengthening by 12 centavos from its P55.67 finish on Friday, based on Bankers Association of the Philippines data.
This was the peso's best close in more than three months or since its P55.52-per-dollar finish on Aug. 3.
The peso opened Monday's session at P55.54 against the dollar. Its intraday best was at P55.45, while its weakest showing was at P55.56 versus the greenback.
Dollars exchanged went up to $1.51 billion on Monday from $1.18 billion on Friday.
"The peso appreciated amid easing local and global inflationary concerns following the softer inflation reports for October," a trader said in an e-mail.
Philippine headline inflation fell to a three-month low of 4.9% in October from 6.1% in September. For the 10-month period, inflation averaged 6.4%.
Meanwhile, US consumer prices were unchanged in October as Americans paid less for gasoline, and the annual rise in underlying inflation was the smallest in two years, bolstering the view that the US Federal Reserve was probably done raising interest rates, Reuters reported.
The unchanged reading in the consumer price index (CPI), the first in more than a year, followed a 0.4% rise in September. In the 12 months through October, the CPI climbed 3.2% after rising 3.7% in September.
The peso tracked the dollar's decline against other currencies due to dovish Fed bets following the CPI data, Rizal Commercial Banking Corp. Chief Economist Michael L. Ricafort said in a Viber message.
The dollar slid to a two-month low on Monday, extending a downtrend from last week as traders reaffirmed their belief that US rates have peaked and turned their attention to when the Federal Reserve could begin cutting rates, Reuters reported.
The dollar index in Asia trade bottomed out at 103.53, its weakest level since Sept. 1, extending its nearly 2% decline from last week.
For Tuesday, the peso could rise further ahead of the release of minutes of the Fed's latest meeting, which markets expect to reinforce their expectations that the US central bank is done hiking rates, the trader said.
The trader sees the peso moving between P55.40 and P55.65 per dollar on Tuesday, while Mr. Ricafort expects it to end at P55.45 to P55.65. — AMCS with Reuters
#Peso #climbs #inflation #concerns #ease
About Author