Trudeau Says Home Prices Have Climbed 'Far Too High' in Canada
Prime minister faces mounting pressure to act on housing affordability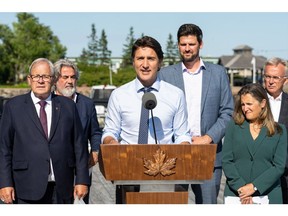 Article content
(Bloomberg) — Justin Trudeau says home prices in Canada are too high and his government will take steps to improve affordability for residents who increasingly feel the "promise" of his country is out of reach.
The prime minister made the remarks Wednesday at a construction site in London, Ontario, hours after a government agency released a projection that Canada will need to build 3.5 million additional homes by 2023 to make costs more affordable.
Article content
"We're facing a shortage of housing right now and that's why prices of homes have become far too high," Trudeau said. "House pricing cannot continue to go up."
It's rare for Trudeau to imply that real estate prices should fall. But as benchmark home prices soared to C$755,000 ($557,000), pressure on the government to act has only increased. His Liberal Party plummeted in opinion polls over the summer, and surging rent and mortgage costs are a major cause of his troubles. 
A Nanos Research Group survey for Bloomberg News found that seven in 10 Canadians are prepared to see prices fall, suggesting some owners would accept a dip in their wealth to improve the prospects for others.
But while the prime minister promised more measures are coming to boost Canada's housing supply, he didn't unveil any new policies at Wednesday's announcement.
The C$74 million in funding he unveiled for London to fast-track building more than 2,000 new units in three years will only make a small dent in the shortage. The Canada Mortgage & Housing Corp. reduced its estimate for Canada's total housing stock by 2030 to 18.2 million, down from an expected 18.6 million last year and still millions short of what's needed to accommodate population growth.
Article content
Housing Accelerator
The deal with London is the first under the Trudeau government's housing accelerator fund, a program introduced in the 2022 budget. The fund aims to supply cash to cities that come up with innovative pitches to build dense housing quickly.
In London's case, the city will enable high-density development without the need for rezoning. It will also allow for as many as four units to be built on a single property in low-density neighborhoods and free up more city land for homes.
"We're living in a housing crisis," said Housing Minister Sean Fraser, promising more deals with other communities in the weeks to come. "It's so much bigger than London. This has national implications."
CMHC provided an update on Wednesday to its forecast for Canada's supply gap, which remains similar to its original estimate in a June 2022 report. But the size of the gap has changed across provinces.
Alberta, the heart of the country's energy industry, has seen its projected gap grow to 130,000 units from 20,000. Quebec, the second-most populous province, will be 860,000 homes short, up from last year's forecast of 620,000, as higher incomes are set to stimulate demand.
Article content
Ontario's shortfall is still expected to be the largest in the country at 1.48 million homes, though it's down from last year's estimate of 1.85 million. In British Columbia, population growth means mean its supply gap is likely to be 610,000 homes, from 560,000.
The Bank of Canada's aggressive interest rate hikes appear to be having a greater impact on Ontario, CMHC's deputy chief economist said.
"The higher interest rates at the moment are lowering overall economic demand and maybe that's having a bigger impact in Ontario than Alberta, because Alberta is, in general, following the evolution of natural resources," Aled ab Iorwerth said in a video released by the agency. "So there's a little bit of a different dynamic there."
Record immigration levels have already strained the housing market. The country plans to welcome 465,000 new permanent residents this year, 485,000 in 2024 and 500,000 in 2025. Those numbers don't include international students or temporary foreign workers, who helped the number of newcomers swell to more than 1 million last year.
Immigration Minister Marc Miller has said Canada needs to keep or raise those targets to maintain public-service funding. Still, CMHC didn't significantly update its forecast for the overall number of households in Canada in 2030. It still expects population growth to moderate after 2025.
—With assistance from Derek Decloet.
(Recasts with Trudeau comments.)
#Trudeau #Home #Prices #Climbed #High #Canada
About Author